Development Support Platform for Electronic Mirrors / Camera Monitoring System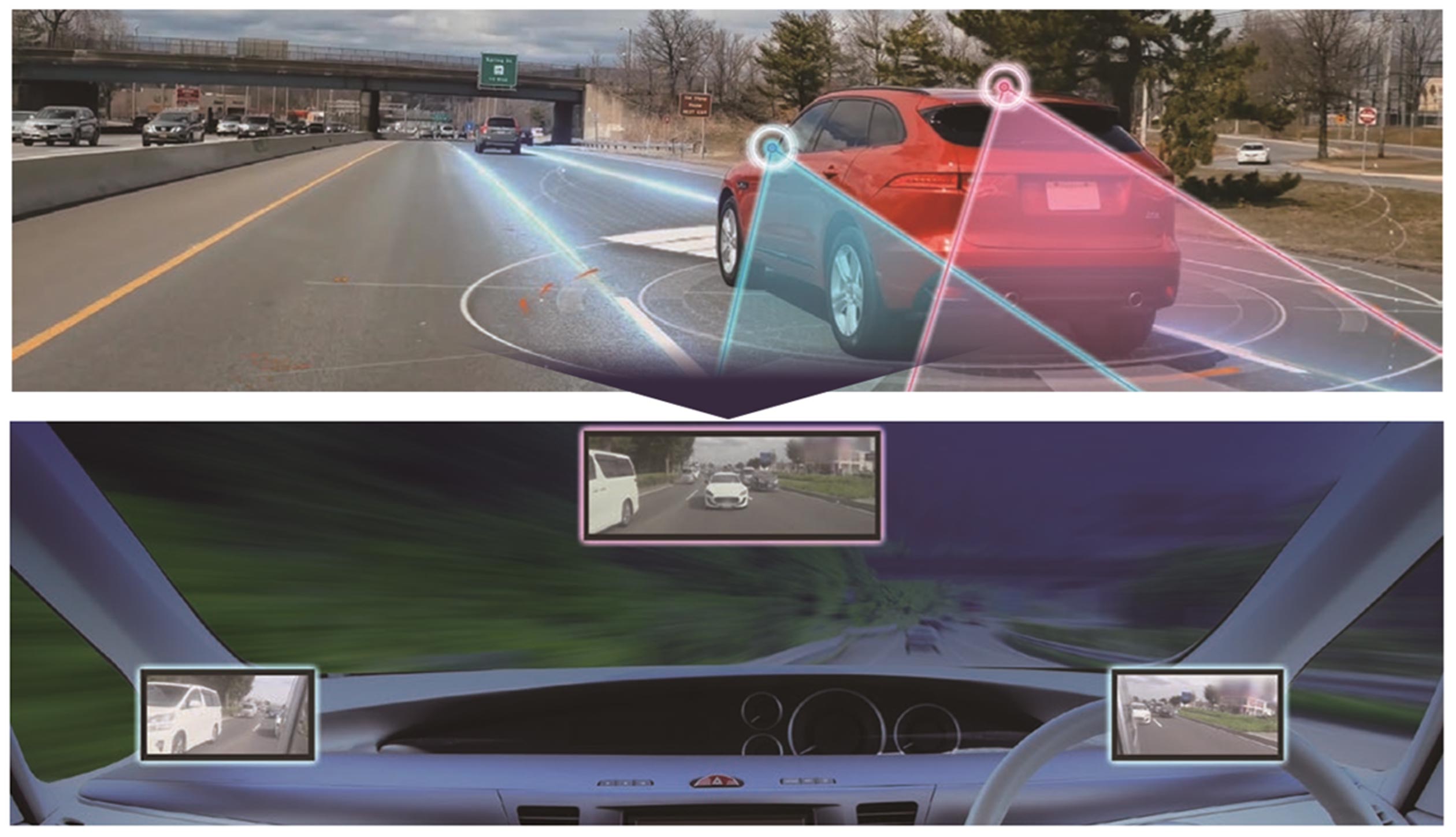 Mirrorless era for cars.
We offer total system for the entire video system.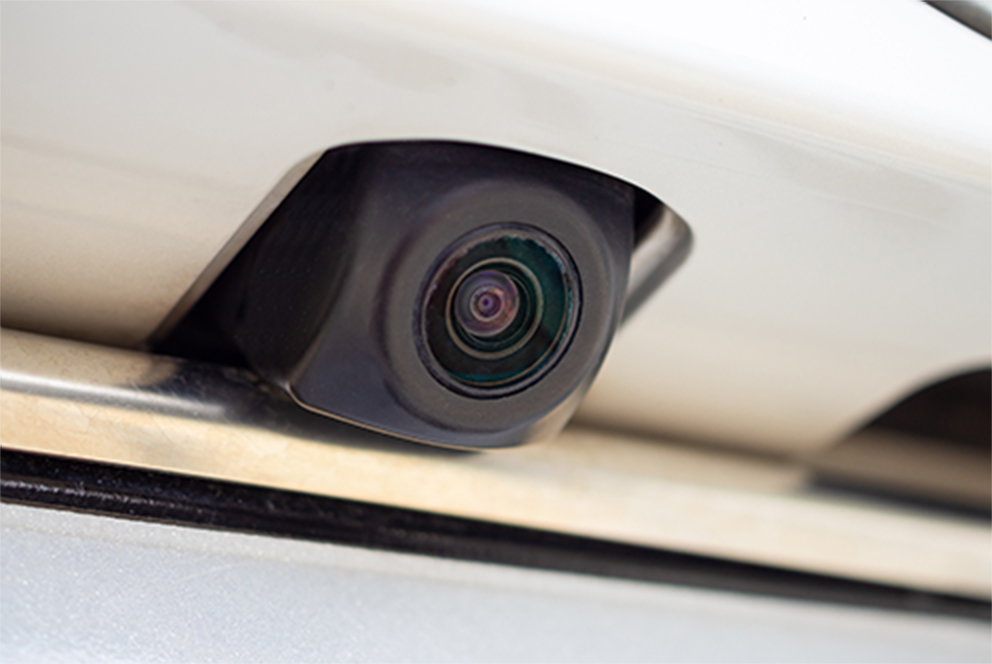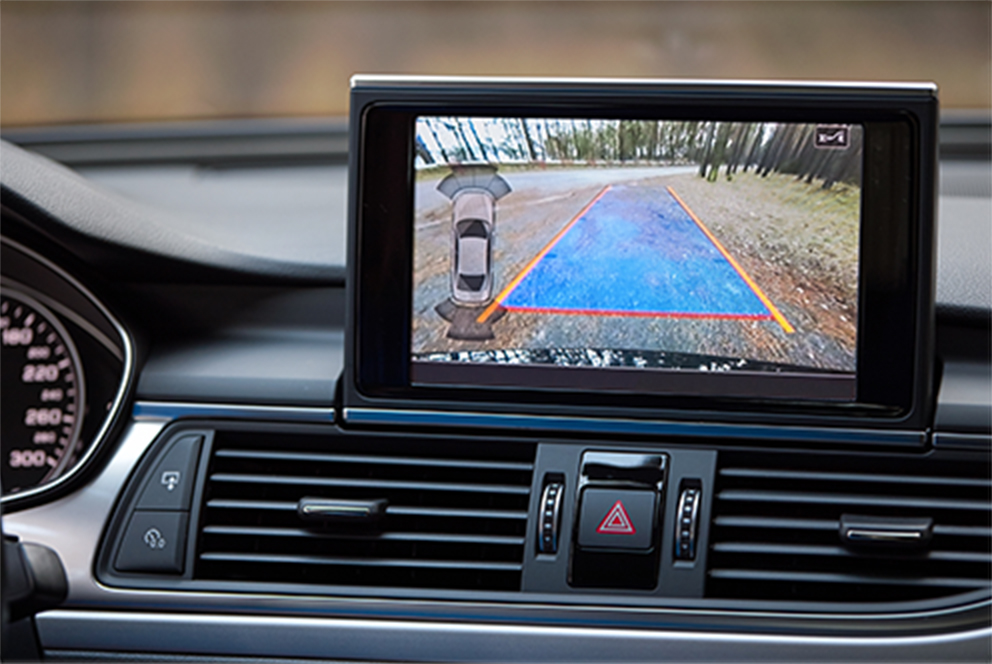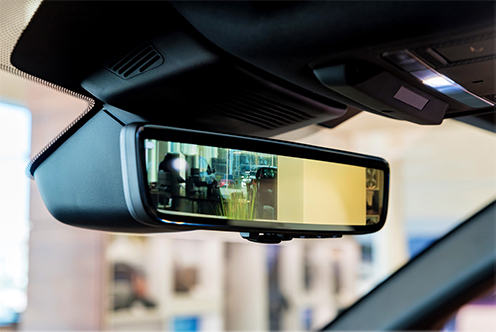 In 1980, Sony Corporation started mass-production of CCD image sensor.
Since then, applications of image sensor have advanced, starting with video cameras and applied to monitoring cameras, DSC's and smartphones.
It is also applied to rear view cameras, ADAS treatment and equipments in vehicles, not only for consumer equipment.


Electronic "eyes" for vehicles.
Restar Electronics has provided not just only image sensors, but also many other video products, such as LCD, SoC and ASSP, to customers.

We now provide development support platform that is adapted to the era of mirrorless (electronic mirrors) for cars where changes take place so fast.
Features
Camera Board

・Maximum: 1920 × 1080 (FHD)/60 fps motion
・IMX39, CMOS image sensor for cars by Sony is applied.
Suppresses both HDR and LED flicker.

Monitor

・Center monitor:1920 × 720 (HD)/60 fps display
:1 screen/2 split-screen/3 split-screen
display settings

・Left&right monitors:1280 × 720 (HD)/60 fps display
:Electronic PAN/Tilt function applied.

・Evaluation Monitor connection :HDMI output option board is provided.

When connecting evaluation monitor in the center,1920 (FHD)/60 fps display is available at maximum

Expansion Port

・Imaging results can be transferred to the expansion board.
By connecting to the board equipped with image recognition function, evaluation of the recognition function is available. (Figure "*1" in the illustration on the right)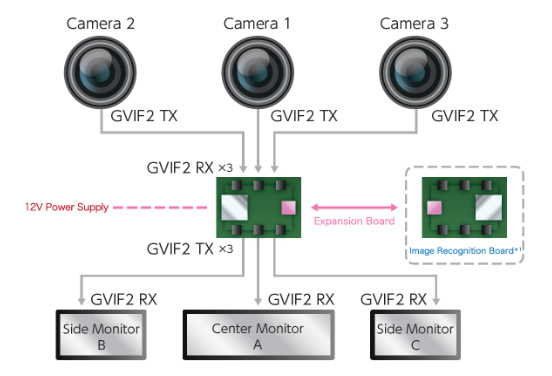 Development Support Platform for Electronic Mirror / Camera-monitoring System

Demo Video of Camera-monitoring System with AI Image Recognition Function
Specification
Main Board

Power

DC12V Single Power Source

FPGA

Xilinx Zynq UltraScale + MPSoC ZU5EV

Memory

DDR4 × 64bit
Flash ROM QSPIx8

CIS I/F

GVIF2 Serial Transmission (MIPI Conversion) × 3ch

Video I/F

GVIF2 Serial Transmission (LVDS Conversion) × 3ch

External host I/F

UART(USB Conversion)

Expansion host I/F

PCI express Gen2 ×4

Dubug I/F

JTAG

Save settings

microSD - Card
Camera Board

LENS Mount

M12

Image Sensor :
IMX390CQV

1 / 2.7 type 2.45M pixel
FHD 1080 p / 60 fps (AD 10 bit)
HDR function and LED flicker suppression
Monitor

Centor Monitor

12.3 inch
1920 × 720 ( FHD) / 60fps

Side Monitor ×2

6.92 inch
1280 × 720 (HD) / 60fps
Others
Cables

0.5m & 5m

Option Board

HDMI Conversion Output / Daisy Chain Connection
If you want to ask about the product demo and/or purchase, please contact us by filling in the inquiry form down below.